You are here:
Home
/
Carolyn's Intuitive Messages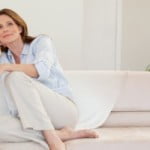 Read my blogs on Aspire Magazine #AspireMag that I contribute to regularly. Enjoy! 
Being true to yourself sounds like a fabulous and easy thing to do.  We all have feelings about what is good for us and not good for us.  This is our intuition.  Following and understanding our intuition and recognizing the messages can be confusing if we aren't taught how to undo the training to NOT follow our intuition.
Intuition is a gift from God that we all have in varying ways, shapes and forms. Some of us were conditioned out of trusting that inner knowing from a young age by well-meaning parents, by traditional schooling or religion. The belief in oneself and a power greater than ourselves is something that all children are born knowing how to use.  As babies we know how to cry when we need to be changed or fed. We instinctively know how to crawl and then pull ourselves up to walk.  We recognize and reach out to our parents for love and for care. When someone is not kind to us we pull back instinctively. [Read more…]
Read my blogs on Aspire Magazine #AspireMag that I contribute to regularly. Enjoy! 
Color is a powerful and healing tool to understand the health of our bodies, relationships and emotions.  The colors we choose to wear and decorate our living spaces can bring great change and support.
What is your favorite color? Do you have colors that you don't like? Color is not only a vibration that we can see with our eyes, it is also an energetic vibration that has an impact on our health, abundance, spiritual connection and perception of the world.  Each color vibrates at a certain frequency and the color enhances certain characteristics and attributes. [Read more…]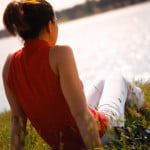 Read my blogs on Aspire Magazine #AspireMag that I contribute to regularly. Enjoy! 
Overwhelm: Fight, Flight or Freeze
Overwhelmed! Even saying the word out loud makes my heart race a little and my breath become shallow. Words definitely have power. Especially when you are feeling vulnerable, with way too many things to do on your plate.  Life is extremely busy now and we have so many demands on our time. It is easy to get lost in taking care of everyone else and putting ourselves last.  As counter intuitive as it seems, this is the time to concentrate on self-care.  [Read more…]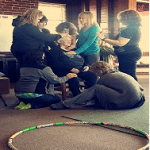 I had the pleasure of meeting some amazing women this weekend at a retreat. The connection of hearts and souls coming together to support, heal and learn was tangible!
Here we are giving some love and energy healing to a sister. Can you see the light and love flowing around us?
The power we have as women is unlimited when we join together in collaboration.
Well, I am a living example of be careful what you ask for – in a positive way! The universe sure does deliver what I focus my energy on. I set my intention in the beginning of 2015 to be seen and connect with other powerful healers and coaches.
A few weeks ago I connected through Facebook with an amazing local intuitive coach. As we got to know (and love) each other and our work, she asked me to present a Chakradance workshop at her retreat later this month.
Another intention of mine was to take more time for self-care. The universe is delivering me a two for one with this retreat. I am excited to relax, learn and bring back more ideas to share with you.
What do you want to manifest in your life?
Much Love, Peace & Joy,
Carolyn
My heart is filled with joy after spending 4 days in Boston with my RockStar tribe!  I spent the last year learning new techniques to share with you and I was chosen as part of the Inspiration Success panel at the Ignite conference to present my journey.
I loved telling the audience how trusting my angels and intuition helped me personally and professionally.
My segment is about 5:30 minutes and I am including a link for you to watch it.
Much Love, Peace & Joy,
I am honored and excited to announce that once again I am a published author! I just received my copies of "365 Days of Angel Prayers"!
This is an amazing daily resource for divine inspiration and angelic guidance.
Here is one of my prayers.  The others are to Archangel Michael and Archangel Zadkiel. [Read more…]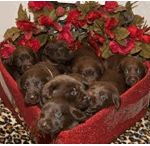 February is the month of love and the celebration of relationships.  Is there anything cuter than a heart shaped box of chocolate lab puppies? 
My heart filled with happiness when I saw this photo!   This is the feeling that I strive to have most of the time.  I hold firm to this amazing feeling of joy and peace as my foundation and when circumstances try to pull me off center, I breathe and remember the joy and love to come back to my peaceful place.
Please join me this "heart" month in being kind and sharing love.   Do something nice for someone you don't know, smile at someone on the train, give your kids an extra hug, call an old friend that you haven't spoken to recently or follow that internal nudge to reach out and show kindness.  
===> Click Here to read my February Ezine <===
Happy New Year and Blessings for an amazing 2015!  Like many of you, 2014 was a year of growth, challenge and loss for me.  My Buddy and partner in my pet care business became ill last spring and crossed the Rainbow Bridge on August 1, 2014.  He was the inspiration for my pet care business, to me opening myself up to animal communication and pet Reiki.  He gave unconditional love, support and joy for 12 years.
He continues to teach and inspire from the other side.  I took this photo right after I spread Buddy'sashes at his
favorite place to run.  He showed me he is now running over the Rainbow Bridge!
Much Love, Peace & Joy,
 P.S.  If you have a beloved pet that you would love to connect with, I invite you to sign up for an Animal Speak session so I can bridge the gap between you and your fur baby!
There has been so much positive change in my life! The energy is opening and flowing in an abundant way. I was honored to be one of 6 speakers at a Wellness Open House. It was thrilling to see so many people interested in learning how to improve their quality of life and overall health! My "Angel Communication Made Easy" class was a beautiful awakening for the group of earth angels that opened themselves to their divine connect with the angels. Stay tuned for the next opportunity to take this class!