You are here:
Home
/
Carolyn's Intuitive Messages
There has been so much positive change in my life! The energy is opening and flowing in an abundant way. I was honored to be one of 6 speakers at a Wellness Open House. It was thrilling to see so many people interested in learning how to improve their quality of life and overall health! My "Angel Communication Made Easy" class was a beautiful awakening for the group of earth angels that opened themselves to their divine connect with the angels. Stay tuned for the next opportunity to take this class! 
Last weekend my daughter, Sarah, was the captain for her Relay for Life team at her college. She was the third highest fundraiser for the college.  I loved seeing her shine and supporting her as she walked laps and organized the events at the relay.
The most fun was having our caricatures drawn. I laughed at the face the artist made when I said I talk to angels……I feel he captured me perfectly!
This week the energy is picking up! Can you feel it vibrating in this card? Use this momentum to finish tasks. Look at your "To do" list and concentrate on tidying up loose ends.
This week is one to focus on a task or project until it is done. No scattered energy approaches! When you get interrupted or need to take a break, do it, and then go back to what you were doing until it is finished. Many times it does not matter how we accomplish or complete things but it will be easier and more enjoyable to follow the linear energy this week.
 This card feels like magic to me. I imagine the hands of God holding the burning flame that does not consume anything yet sends its light and energy out to the world. Hold this image in your mind if you need support this week.
The monkey in the moon sends the message to be clear in your communication. Speak your thoughts with integrity and loving intention. Don't be afraid to ask for what you need, especially with family or in your community. Reach out to your support group – you give so much and now it is your time to receive.
All is possible with the support of family/community!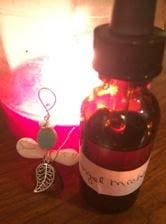 The past 2 weeks have been an amazing example of trust in action for me.  I taught an Angel Healing Circle with Archangel Michael on Sunday. As I thought, meditated and attempted to create notes about what Archangel Michael wanted me to share with everyone; nothing came through. I had to trust that all would become clear when the time was right.  
I practiced patience and worked on other tasks. On the morning of the class as I walked by my essential oils and some beads that I purchased a few years ago, I received my guidance! Within an hour, Archangel Michael had helped me put together a beautiful and creative way to teach his message.  It was a wonderful confirmation to trust in divine timing!
Much Love, Peace & Joy,

P.S.  There are still a few spots left in the special bonus private, closed group coaching call with me for early registration to the AngelCommunication Made Easy workshop!  Be sure to register right away to secure your spot in this bonus call!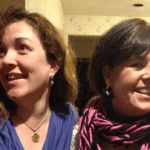 I am blessed to be part of the leadership team for the Dream Factory Community. At our last meeting we created power earrings.
It was fun to share sacred space with other spiritual leaders and bring out our joyful creative side! We muscle tested our stone selections to ensure that our designs would empower us. Then we modeled our new earrings!
Much Love, Peace & Joy,
Carolyn
P.S. Don't miss out on my 2 for 1 Angel Readings in the month of February! Pay for your reading today and you will receive a second reading for you or a loved one with my compliments!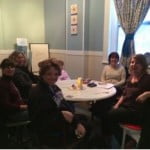 This is a time a new beginnings for me. My Angel Healing Circle was powerful and intimate. We supported each other in a clear and clean energetic start to 2014.
I could feel the loving warmth of the angels in the room as we gathered. I love that I saw angel's wings on the wall behind us in this picture!
Do you see them?
P.S. In honor of Valentine's Day, I am offering 2 for 1 Angel Readings in the month of February. Pay for your reading by February 28, 2014 and you will receive a second reading for you or a loved one with my compliments!
Intuitive message inspired by Magic Tree 
from the Universal Wisdom Oracle deck by Toni Carmine Salerno
I see all these people with their hands raised towards heaven.  They are celebrating the new year and life.  It is a magical time filled with possibility and joy! 
As I type this I hear the refrain " put your hands up" being sung in my head.  I looked up the lyrics to the Miley Cyrus song – Party In The U.S.A.  The words that resonated with me are:
"So I put my hands up
They're playing my song,
And the butterflys fly away
Noddin' my head like yea
Movin my hips like yea
I got my hands up,
They're playin my song
I know im gonna be ok"
This is the message from our angels.  Life is meant to be celebrated!  We are a community of lightworkers that is a team.  We play together, encourage each other and all will be okay.  We may get a little nervous about changes but with the support of our earth angel team and our divine angels we can do anything! 
So put your hands up, dance and sing with your angels and know that you are gonna be okay!
Much Love, Peace & Joy,
Carolyn
 Written for LWTAs
Intuitive message inspired by Perception 
from the Angels, Gods and Goddesses Oracle deck by Toni Carmine Salerno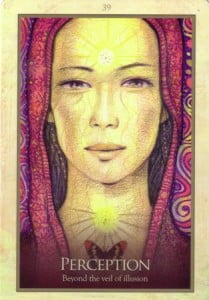 This angel beautifully shows how I have been feeling in this early part of 2012.  I have bright moments and times when I feel cracked and broken.  My energy is shifting rapidly and moment by moment things are different.  It has been a time of breaking free of old patterns and ways of life.  It seems as if the negative emotions are seeping out of my skin and evaporating into the air.  I feel a new radiance especially in my throat and 3rd eye.
The lines on this angel's skin made me think of a spider web and I had a spider run under my chair recently.  If Spider shows up, according to Animal Spirit Guides by Steven D Farmer, then "This is an opportunity to access your deepest wisdom and assimilate it so that it becomes a part of your daily living."
This confirms my intuition!  This is a time to let go of all that has been lurking beneath my surface, just out of my awareness.  Even emotions that I thought I had processed long ago are coming alive again to be completely and forever converted into light and loving energy. 
 The angels are here to support this transition to wholeness and glowing beauty.  Do not hold back or push.  Allow yourself time to release and heal on all levels.  We would love to hear how you are shifting your energy into light and love.
 Written for LWTAs
Intuitive message inspired by Goddess of Shadows 
from the Angels, Gods and Goddesses Oracle deck by Toni Carmine Salerno
The angels have it perfect as always!  The energy coming out of 2011 and moving into 2012 is that of pulling into the darkness and soaking in the energy of transformation. This has been a time of great change for many of us. I have felt trapped in place; wanting to move forward but there have been too many obstacles in my way. Many of us have become ill and been forced to take time for self-care. We need to understand and accept that it is a time to retreat, gather our energy, balance ourselves and get prepared for the changes to come.
It is similar to the caterpillar going into the cocoon to turn into a butterfly. The caterpillar knows that this is the end of life as he knows it. He trusts and follows instinct that all will be beautiful and as it should be.
We need to trust and follow our intuition with how we use our vitality now. We are in transition to a new and higher vibration. We need to reserve our energy and clarify what we need to bring forth with us to this changed world.
Trust the process, allow time and space for your angels to guide you, know that if you are feeling held back it is because you were moving too fast. 2012 is a powerful time and we need to be prepared to fully step into this vibration. Not everyone will emerge at the same time. Be patient with yourself and receive fully the gift of where you are now. The path is different for each person and the angels are always here to assist us on our journey.
  Written for LWTAs