You are here:
Home
/
Carolyn's Intuitive Messages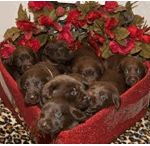 February is the month of love and the celebration of relationships.  Is there anything cuter than a heart shaped box of chocolate lab puppies? 
My heart filled with happiness when I saw this photo!   This is the feeling that I strive to have most of the time.  I hold firm to this amazing feeling of joy and peace as my foundation and when circumstances try to pull me off center, I breathe and remember the joy and love to come back to my peaceful place.
Please join me this "heart" month in being kind and sharing love.   Do something nice for someone you don't know, smile at someone on the train, give your kids an extra hug, call an old friend that you haven't spoken to recently or follow that internal nudge to reach out and show kindness.  
===> Click Here to read my February Ezine <===
Happy New Year and Blessings for an amazing 2015!  Like many of you, 2014 was a year of growth, challenge and loss for me.  My Buddy and partner in my pet care business became ill last spring and crossed the Rainbow Bridge on August 1, 2014.  He was the inspiration for my pet care business, to me opening myself up to animal communication and pet Reiki.  He gave unconditional love, support and joy for 12 years.
He continues to teach and inspire from the other side.  I took this photo right after I spread Buddy'sashes at his
favorite place to run.  He showed me he is now running over the Rainbow Bridge!
Much Love, Peace & Joy,
 P.S.  If you have a beloved pet that you would love to connect with, I invite you to sign up for an Animal Speak session so I can bridge the gap between you and your fur baby!
There has been so much positive change in my life! The energy is opening and flowing in an abundant way. I was honored to be one of 6 speakers at a Wellness Open House. It was thrilling to see so many people interested in learning how to improve their quality of life and overall health! My "Angel Communication Made Easy" class was a beautiful awakening for the group of earth angels that opened themselves to their divine connect with the angels. Stay tuned for the next opportunity to take this class! 
Last weekend my daughter, Sarah, was the captain for her Relay for Life team at her college. She was the third highest fundraiser for the college.  I loved seeing her shine and supporting her as she walked laps and organized the events at the relay.
The most fun was having our caricatures drawn. I laughed at the face the artist made when I said I talk to angels……I feel he captured me perfectly!
This week the energy is picking up! Can you feel it vibrating in this card? Use this momentum to finish tasks. Look at your "To do" list and concentrate on tidying up loose ends.
This week is one to focus on a task or project until it is done. No scattered energy approaches! When you get interrupted or need to take a break, do it, and then go back to what you were doing until it is finished. Many times it does not matter how we accomplish or complete things but it will be easier and more enjoyable to follow the linear energy this week.
 This card feels like magic to me. I imagine the hands of God holding the burning flame that does not consume anything yet sends its light and energy out to the world. Hold this image in your mind if you need support this week.
The monkey in the moon sends the message to be clear in your communication. Speak your thoughts with integrity and loving intention. Don't be afraid to ask for what you need, especially with family or in your community. Reach out to your support group – you give so much and now it is your time to receive.
All is possible with the support of family/community!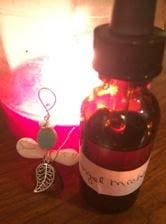 The past 2 weeks have been an amazing example of trust in action for me.  I taught an Angel Healing Circle with Archangel Michael on Sunday. As I thought, meditated and attempted to create notes about what Archangel Michael wanted me to share with everyone; nothing came through. I had to trust that all would become clear when the time was right.  
I practiced patience and worked on other tasks. On the morning of the class as I walked by my essential oils and some beads that I purchased a few years ago, I received my guidance! Within an hour, Archangel Michael had helped me put together a beautiful and creative way to teach his message.  It was a wonderful confirmation to trust in divine timing!
Much Love, Peace & Joy,

P.S.  There are still a few spots left in the special bonus private, closed group coaching call with me for early registration to the AngelCommunication Made Easy workshop!  Be sure to register right away to secure your spot in this bonus call!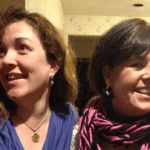 I am blessed to be part of the leadership team for the Dream Factory Community. At our last meeting we created power earrings.
It was fun to share sacred space with other spiritual leaders and bring out our joyful creative side! We muscle tested our stone selections to ensure that our designs would empower us. Then we modeled our new earrings!
Much Love, Peace & Joy,
Carolyn
P.S. Don't miss out on my 2 for 1 Angel Readings in the month of February! Pay for your reading today and you will receive a second reading for you or a loved one with my compliments!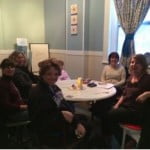 This is a time a new beginnings for me. My Angel Healing Circle was powerful and intimate. We supported each other in a clear and clean energetic start to 2014.
I could feel the loving warmth of the angels in the room as we gathered. I love that I saw angel's wings on the wall behind us in this picture!
Do you see them?
P.S. In honor of Valentine's Day, I am offering 2 for 1 Angel Readings in the month of February. Pay for your reading by February 28, 2014 and you will receive a second reading for you or a loved one with my compliments!
Intuitive message inspired by Magic Tree 
from the Universal Wisdom Oracle deck by Toni Carmine Salerno
I see all these people with their hands raised towards heaven.  They are celebrating the new year and life.  It is a magical time filled with possibility and joy! 
As I type this I hear the refrain " put your hands up" being sung in my head.  I looked up the lyrics to the Miley Cyrus song – Party In The U.S.A.  The words that resonated with me are:
"So I put my hands up
They're playing my song,
And the butterflys fly away
Noddin' my head like yea
Movin my hips like yea
I got my hands up,
They're playin my song
I know im gonna be ok"
This is the message from our angels.  Life is meant to be celebrated!  We are a community of lightworkers that is a team.  We play together, encourage each other and all will be okay.  We may get a little nervous about changes but with the support of our earth angel team and our divine angels we can do anything! 
So put your hands up, dance and sing with your angels and know that you are gonna be okay!
Much Love, Peace & Joy,
Carolyn
 Written for LWTAs