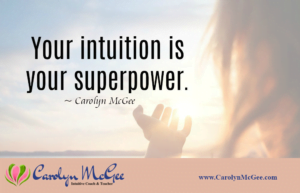 This image was the first graphic used in my new series of weekly emails starting in September of last year. This saying represents the magic of our ability to call on that divine connection at any time and always in our lives.
My life is guided by the messages I receive when I tune into my intuition, listen, trust and act. Time and time again my intuition has provided direction that lead me into living a more connected and authentic life, one which resonates with my soul's purpose.
It is my superpower. And your intuition is your superpower.
I have used coaches to help me refine my intuition and my divine connection. They have provided insight into personal blocks and helped me find my way of being aware and present to this special gift. We all come here to learn what we need to teach.
And, I have coached many as well, holding the space for the beautiful transformations that my clients experience when they sharpen their ability to live in the flow.
I am here for you if you are ready to work with your intuition and your life purpose journey. You can schedule a conversation to determine if I am the right guide to help you tap into your intuition and make/act on empowered decisions.  Click HERE to fill out a short questionnaire and get on my calendar.
You can also reach out to me at carolyn@carolynmcgee.com if you have any requests, feedback, or would like to contact me directly.