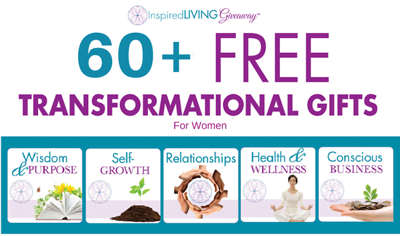 You know I am passionate about bringing you the best strategies, resources and tools to help you live your best life!
That's why I'm excited to share that the Inspired Living Giveaway is back for Season 9.
The Inspired Living Giveaway™: Resources for Mastering the Art of Living is dedicated to providing high-quality transformational resources to support, empower, and inspire women in living their best lives – personally and professionally.
How cool is that?
That's why I am excited to invite you to…
Claim your transformational gifts today!
Now through midnight ET on October 12th you can claim over 60 high-value transformational resources. You'll discover thousands of dollars in complimentary resources from some of today's leading experts, visionaries and new thought leaders, as well as up-and-coming movers and shakers in the fields of:
• personal development
• self-growth
• conscious business
• relationships
• health & wellness
• personal & spiritual development
• success and mindset
• and more
Claim your transformational gifts today!
You'll find video courses, guided meditations, ecourses, gift bundles, and more waiting for you!
I invite you to open your heart and arms to receive the abundance of loving support and valuable resources offered in the Inspired Living Giveaway.