Hello everyone. Carolyn McGee, Intuitive Coach and Teacher here for your Tip of the Week Video. It is the week of March 15th, 2020 and there is a lot going on this week.  I want to talk to you about being centered and focusing on what you can control.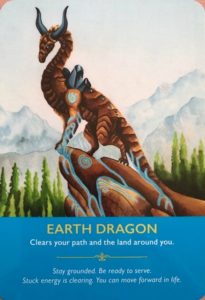 So first of all, like always, I like to pull a card. We are using the Dragon Oracle cards and the card that came out for us is the Earth Dragon. Now I know that the card is reversed from the way that I can see it, but this dragon is looking back, looking into the past. So the invitation for all of us is to let go of the past, to let go of what we think we know, to focus on being present. You know, this quarantine that we're in, this social distancing with the coronavirus is giving us an opportunity to, in some ways, yes, step back into an older way of being.
You know, we are very fortunate as a society where we have the ability to do things like video conferencing, to do FaceTime, Skype, just pick up the phone and have a conversation. We have TV, we've got Twitter. There's all of these different ways for us to connect. It's very different than it was back in 1918 when we had the Spanish flu pandemic.
So what can we learn about that? One of the things that they learned during that time period was the criticality of being outside in nature. There's been information on Facebook recently showing that the people who healed quicker were the ones who they put outside. I've even seen pictures of rows and rows of tents of with patients on stretchers that are outside in the sun.
They're absorbing the light. So one of the ways to build your immunity and help you recover faster or help your immunity build up so you're not affected by all of this is just continue to get outside. If you have somebody in your household that that you want to take a walk with, take a walk. Otherwise just get outside yourself, maintain that suggested six feet of space and take a walk. Take your dog for a walk. Go to the dog park, but just don't engage at a close proximity, but still get yourself outside. Take yourself for a drive. Get in your car and go outside. Put the windows down, if it makes sense, and just get yourself out of the space that you're in because it can get a little bit claustrophobic.
If it's safe for you to continue to work, that's great. If you're working from home, try to keep your same routine. You get up, get yourself dressed, you get your coffee. If that's, if that's your thing, it certainly is mine. And go to work. If you are getting paid, keep the same support systems that you have. If you've got a dog walker, have them come to walk the dog as long as everybody's healthy. If you have somebody who comes to mow the grass or clean your house or does other support for you continue to do that as long as you can. It's keeping the economy going. It's supporting others. It's that sense of community which is extremely important. And one of the things that I have been noticing and that my angels keep whispering in my ear about is we have lost that tribal sense of community.
If you think about just even a couple hundred years ago, if we were isolated from the tribe, the way they punished people is that they would excommunicate them, excommunicate them from the church, they would put them outside the stockade fence. They would just socially ostracize people if they didn't follow the rules.
And we're taking a step back into the sensation of that, even though it's not real.  It's not real, but the energy of it, the way our root chakra, our safety center feels.  We are going to react to that old paradigm of it's not safe. It's not safe to be alone. And that's going to amplify the fear. That's part of what's running the energy with the cleaning out the stores, there's this pervasive feeling of it's not safe.
It's not safe to be me. It's not safe in my home. It's not safe in general. So taking a deep breath and realizing that you are safe.  Yes, we all have to take precautions. We need to be aware. We need to wash our hands thoroughly. If we don't feel well, we do need to stay home and not muscle through it. We've been taught in the past that if is just a little cold it's okay to go to work. That's that old energy. This is the energy of taking care of ourselves and taking of others in our community because we are not alone. We are not isolated.
We are all in this together. It's a worldwide situation and we each have a responsibility and the power to make a difference. So for this week, my invitation to you is reach out and see if you can support somebody. Earlier in my town there was an elderly woman who posted on Facebook that that she was out of milk and asked if somebody could help her. There was at least 20 people that said, what kind of milk do you want? Do you have any restrictions? And I'll get you one and I'll drop it off on your doorstep. That's community. Another thing that happened is that the town has an emergency food fund. And in order to help support the restaurants in town, they're using those funds, buying food, and then they're going to have it available for individuals to schedule a time because they're trying to be very aware of not having a crowd schedule a time to come and pick up a meal.
So again, it's a community. It's reaching out, it's being of service. And that's the way we support each other. That's the way we support ourselves. It's so important to get into that energy of supporting others. So my invitation to you is how can you support somebody else and what can you do to be kinder to yourself to make things a little bit more fun for yourself while you are taking care of yourself while you are pulling back and not engaging as much with the outside world.
Do you have a book that you've been putting off reading? Can you schedule yourself some time, do your work from home or whatever you have to do, and then give yourself the pleasure of reading that book? Are you writing a book and you've been procrastinating it?  I fall into that category.  Schedule time, work on it.
If you love to draw, get a coloring book and give yourself that joy. There are all kinds of online programs to keep engaged. I'm seeing some beautiful things where people are waiving programs fees so that you can do it at home. All kinds of subscriptions. They're really encouraging people to do self care. And that's something you can do at home. That's something you can do with your family. Do a yoga class in your living room. Turn on some crazy music and dance. Have fun. Bring a little joy into your life.
And because I like to be of service what my commitment to everyone is that I'm going to do a Facebook Live every day for an undetermined of time. We're going to play this all just by ear, just like everything else in the beginning.
It will be a different time each day. On Monday it's going to be a five o'clock in my Facebook group. The Facebook group is called Enhance Your Intuition. You have to answer a few questions in order to join, but they're all real easy questions and I would love to see you there. I will be there giving tips, holding space. We can all have a virtual tea. I'll pull cards, I'll answer questions, whatever I can do to help keep the community vibe alive. I hope to see you there and have a fabulous week. Bye bye for now.