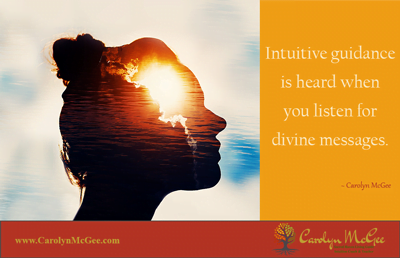 In last week's email, I discussed the first of three pillars for Sacred Haven Living. Soulful Healing, the first pillar, provides the space and tools for deep healing and clearing.
Intuitive Guidance is the second pillar. It is at this point that one hears the divine messages meant for your soul's highest purpose. It is through this pillar that you connect deeply within yourself and to the various guides you have access to.
We access our intuition, the messages from the angels, and the guidance from our other guardians when we allow our bodies, hearts, souls, and minds to deeply relax and connect to the ground, through our being, and to the heavens.
This experience can feel like a deep meditation and a time when we feel the flow of information meant for us as unique and divine beings. It is a soulful time and provides direction for the third pillar, Embodied Action.
Many have described this pillar as magical, spiritual, otherworldly, and light. It is from this space of deep intuitive connection that you are able to discern what you need for your own Sacred Haven.
The next email will outline the final pillar, Embodied Action. It will be sent on the first day of my new program with VoiceAmerica, "Sacred Haven Living with Carolyn McGee". I will provide the link to the show with that email, and you can connect with me via my FACEBOOK page for upcoming information about this program and other resources available for your healing.
If you would like more information about this journey, or if you are ready to start on your adventure now, set up a time to meet with me HERE. You can connect with me via my Facebook page HERE.
You can also reach out to me at carolyn@carolynmcgee.com if you have any requests, feedback, or would like to contact me directly.