I'm so excited to announce the release of a brand-new book, "365 Ways to Connect with Your So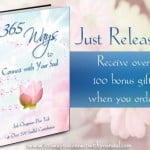 ul". It contains one tip for each day of the year from over 200 authors, including Arielle Ford, Peggy McColl, Christy Whitman…and ME! 🙂
Whether you're feeling disconnected or are already plugged into your soul and are looking to deepen your connection, this book provides lots of easy and fun ways to align with your soul and the universe. Topics include: gratitude, nature and animals, wellness and self-care, and the topics I wrote about: Pets as a Mirror, Cloud Messages and Walking Meditation.
It makes a great holiday gift for friends, family, and other loved ones…including yourself! You can learn more about the book HERE.
Plus, if you order now, you'll receive over 100 soulful bonus gifts – all created by the contributing authors – including guided meditations, ebooks, ecourses, and much more! I'm so excited to share this book with you. So much love has gone into it, and I can't wait for you to take all of that love into your heart!