If you have experience with  any of Carolyn's Angelic work and would like to leave a testimonial of your own, please click here.
Working with Carolyn gave me more confidence to finally let go of nagging fears. I was tired of reacting to life and wanted to respond easily and grow.  I worked through some childhood stuff and went to the next level with getting rid of those beliefs.  Each week I learned something, things shifted and I saw my growth.  My confidence in my intuition, my ability to understand myself and get my own guidance changed from 50% to 100%!  My quality of life is better now.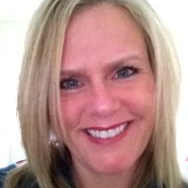 Carolyn's intuitive guidance has accelerated both my personal and business growth over the past year. Clearly an earth angel herself, Carolyn utilizes angelic wisdom and heightened intuitive awareness to provide coaching that is focused and client specific.  In just a few sessions, Carolyn helped me break through blockages and old patterns while offering purposeful action steps to ground new behaviors. Carolyn's gentle, compassionate and non-judgmental demeanor provides the ambiance of safety, security and love. I highly recommend Carolyn McGee to anyone seeking personal guidance to a happier, healthier life!
Barbara Schultz
www.thesoulmidwife.com
It was a joy to work with Carolyn. She has a deep sense of peace and confidence that surrounds her which helped me relax and tune in during her reading. She was spot on in the information she gave and helped me to listen more clearly to my heart instead of my head. I love working with Carolyn and plan to do it again in the future.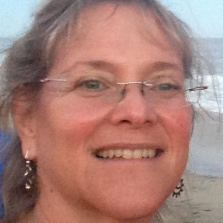 Ina Bachman LICSW, TIWC
Transformational Coach and Creator of the Couple's Money Matrix
http://www.inabachman.com
Carolyn led me through a mediation to assist me with some energy work that I am working on. She led me through a wonderful guided meditation!
Her voice is warm and soothing, her imagery powerful. It was easy to let myself deeply relax to the soothing sound of her voice. I enjoyed the colors and images she led me to use. I felt my energy shift as we worked together and I found it easy to let go of the things she suggested I allow myself to let go of.
This was a wonderful meditation! Not only was it enjoyable and relaxing, but the images that came to me were powerful and clear. This was a wonderful experience!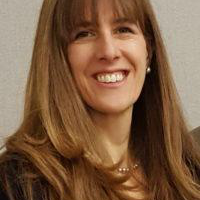 Elizabeth Meyer
SuccessCoachElizabeth.com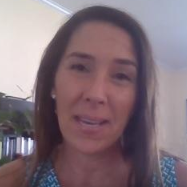 Margaret M Lynch
www.margaretmlynch.com
Carolyn thank you so much for your course! I never realized I was intuitive before your course. You have a beautiful way of leading us to discover our own intuition. I was actually afraid to practice with the other people in the group because I knew they were more intuitive than me. It was so exciting to witness those moments when we all saw the same things during the readings. Thank you for that! And thanks again for your course. If you are thinking about taking this course I highly recommend it! You will start trusting yourself more and feel more confident making decisions in your life.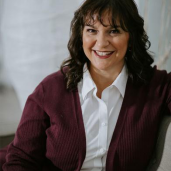 Jackie Kane
https://jacquelinemkane.com/
Carolyn McGee is an Intuitive coach without precedent. Before working with her, I was feeling a little lost. I've always trusted my intuition and I have used so many tools and strategies in the past. I had to make a decision that was going to impact my business and my life as well.  Through our work together, not only did I feel completely held in a sacred way, but also led in a step by step process that allow me to feel completely empowered, confident, and clear about what to do.
Laura Mazza Gonick
soulfulempoweredwomen.com
Carolyn delivered a lot of good information with love and caring.  She taught us an amazingly easy way to find out if something is good for me or my highest good, and showed us how to pull cards and read them.  She helped us realize that sensitivity is a real gift and demonstrated how to protect our energy.
Carolyn's warm demeanor & expansive knowledge makes any of her classes truly an enlightening treat.  I have learned & grown so much from her.  She was very helpful in overcoming my obstacles & reaching my goals and helping me recognize my intents & desires.
Carolyn, I wanted to thank you for being such a beautiful part of our 'selling experience'!  Not only did we sell our home to the first people seeing it after the clearing but there was an unexpected gift in the mix.  You see I also felt a release, a clearing of all that was wrapped up in our home - the experiences, the joys and sorrows - a connection that I did not realize I had until I walked the house with sage and prayers.  It was so beautiful that it brought tears to my eyes and I felt my heart open and release.  Thank you!  You are truly a powerful energetic presence and all of this over the phone!  Pretty amazing!
I brought my six year old Golden Retriever, Jace for a session with Carolyn. He spent months recovering from a life-threatening dog attack.  He still exhibited signs of major trauma. He had daily nightmares, became anxious, insecure and skittish. After one session of Carolyn's Animal Communication practices using EFT and other proven methods...... Jace became calmer. The nightmares subsided and he is behaving more like he was. Carolyn has a gift and we are so happy she shared it with our loved pet, so that he could move beyond his trauma.
Hello Carolyn, I just wanted to say, thank you. Thank you for being one of my teachers on this journey. After those sessions with you, I've been paying more attention and receiving more guidance and following my intuition more. My life does seem to be more joy filled. I am truly grateful.
Carolyn offered me a card reading which was very poignant to me, advising me to shine my light and stop holding back as I have a very big mission. It was very reassuring and I was touched by the beautiful space she held for me.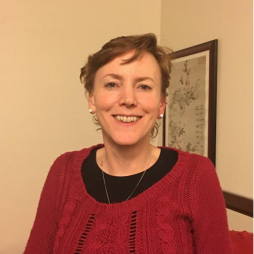 Lucie felt a sense of assurance
Carolyn provided clarity in my life and business
What a gift you gave me in assessing a long time allergy has actually been something I manifested to protect myself from the pain of a traumatic event - brilliant!
I had never even considered that the event was traumatic to my little 8 year old nervous system.
The compassionate and directed tapping you led me through to heal that emotional trauma, struck a deep chord.  I am so grateful for your insight and your expert ability to hold the space that allowed my pain to come up, where I could see it for what it was and then guide me in a tapping script to honor and heal the old wound.
And now (after 50 years) I look forward to enjoying the love of a cat in my life again!
I finally realized what the red ball is - it is a red laser pointer!  And it is absolutely his favorite thing in the world, he is completely obsessed so not surprising that he mentioned it to you.
Thanks so much for the amazing session!  I took your advice on changing my dog's food to a grain free version and he loves it.  He hadn't really had an appetite for ~4 days and when I put some of the new food in his bowl (along with some of the old food as he transitions) he immediately ate all of it!  I'm so excited to see his full transformation in a few weeks after he has fully transitioned to his new diet.  I also did a full house energy clearing yesterday to clear out the energies that were irritating him and he didn't start shaking at all when we put him in his crate this morning.  Such a huge relief!
Thank you!
It was wonderful to take an online class with Carolyn! She gave us different strategies to help build those senses so we can learn to communicate with our furry friends in different ways. In learning how to communicate with animals, I have learned to listen and trust my intuition which has tremendously helped in my personal life.  I highly recommend taking a class or workshop with her!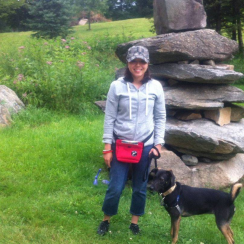 Angela Gavin
pawsitivedawgwalking.com
After suddenly losing my sweet pooch Bridgette to cancer I decided to get a reading with Carolyn. I just had to know that the end of her body was not the end of her.   From the start everything Carolyn said about Bridgette were so spot on, I knew she was connecting to her. Although nothing can bring her back, Carolyn has given me a new way to continue connecting with my baby.
What can I say besides that Carolyn is a gem. Her infinitive nature is AMAZING to witness, she gives great readings and advice. Carolyn is a brilliant coach and loving individual. She has help me understand my blocks and unlock them. I am grateful and thankful for her.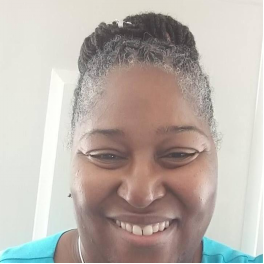 Carolyn McGee gave me an Angel Card Reading that keeps coming up to greet me, in surprising moments. This gist of it is to stop looking back while moving into my future, and she hit that nail on the head! I returned home to California to help my parents and this message helped me to take actions for their futures too. I'm now home on the North coast and making plans while looking fully forward. Carolyn's reading went in deeply and I'm finding it to be a simple daily North Star for me. Thank you, dear Carolyn!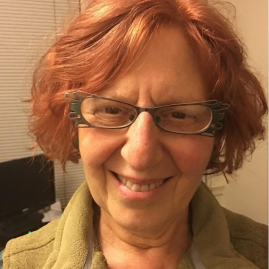 Carolyn was patient in getting me to learn to communicate with my pets, and all animals. She answered every question I had, and made sure I understood it. She's a wonderful teacher and got me to communicate well with animals
Carolyn is a gifted intuitive! She zeroed in on a negative dating pattern that I have been stuck in for quite sometime. The exact words she used to describe my situation are actual words I often use...it was like she immediately tapped into my life and told me that there was a great learning opportunity for me to ignite...breaking my dating pattern and allowing in the right person. Thank you Carolyn 🙂
That was amazing@!! You are an amazing animal communicator. The session we had with all my animals were powerful and so informative. My horses behavior has shifted since our session. I learned so many wonderful tidbits of information from all my animals. I am so blessed to have you in my and my animals life!@!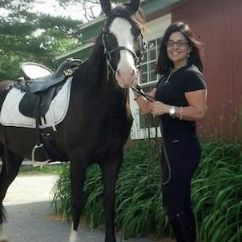 "I have been privileged to work with Carolyn in the capacity of both student as well as teacher.  Her growth and dedication to healing is astounding, and she exudes confidence, strength and wisdom in all that she does.  I have seen first-hand over the years how her creativity shines when she is focused on that which is dear to her heart.  If you are looking for someone to help illuminate your own healing path, Carolyn is for you!"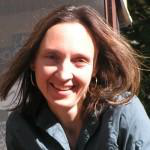 Denise trusts her intuition more after working with Carolyn
Wow, I'm so impressed Carolyn that you could tune into each cat's personality and understand who they are and also how I can help them.
Great session!  I love how accurate you were about the 3 cats dynamics.  Harley's skin problems on head and shoulder and sound advice for treating their gum problems with essential oils.   You nailed his rebellious, fresh personality as well as Tucker's quirky side. Chase is a more wise, mature, sedate personality - so accuracy on that as well.
I love 'my boys' so to be a better 'cat mom' is valuable information for me to act on. Thank you for your gifts, insights, and abilities. I heartily recommend that other pet owners take advantage of your services so that there is more harmony and happiness between all family members - 2 and 4-legged.
Denise Simpson
www.denisemsimpson.com
Loved this class!  Really helped ground & get clarity on my direction for career.
My biggest take way from class is "Learning to trust my heart/Intuition."
My biggest take way from class is "to trust what I'm getting."
After the workshop with Carolyn, I feel more comfortable trusting the information I receive from my guides…..I also loved the meditation!
My biggest take way from class is "that I realized that fear & negativity can build up and even though I think I'm letting it go I am not always"  not sure I can use…
I feel as though my inner power has begun to shine her light again.
Great opportunity to gain insight into healing.
I loved the intimate setting of the small group and Carolyn's nurturing, confident presence. I left feeling awesome!
My biggest take way from class is that "We are all already intuitive/trust your gut & practice intuition frequently."
The class was engaging.   I liked that there is movement involved.  Carolyn is passionate about the subject (of intuition).
My biggest take way from class is to "Trust in yourself, stop & listen & sense!"
Solid foundational information
My biggest take way from class is that "Paying attention to signs because they are everywhere."
Carolyn engaged in a very personal level and gave relatable examples.
My biggest take way from class is the "tools to tap into intuition, the signs and messages.
My biggest take way from class is to "Be more aware of daily events/happenings."
The class was very informative and opens awareness.
This was a very powerful session & I'm looking forward to seeing the results.
The class was engaging. I liked that there is movement involved. Carolyn is passionate about the subject (of intuition).
The class was engaging. I liked that there is movement involved. Carolyn is passionate about the subject (of intuition).