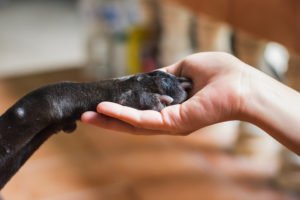 Did you know that animals can help keep us present to embody, embrace and trust our intuition?  We are all born with the gift of inner wisdom. When we cannot connect to divine guidance and our own bodies intelligence often our animal companions help us.
We need to remember we are spiritual being in a physical body.   The body is our own personal temple.  Many times people who are on a spiritual path, concentrate on the upper three Chakras, they're concerned about the throat and having it open so they can speak their message. They're worried about the third eye so that they can connect, they are focused on the crown, so they are receiving downloads.
While these are all very important, if we're living and having all our energy in the upper 3 chakras, we're not able to manifest. We manifest from our second chakra.
Our gut instinct is in our third chakra.  If we are not present, then we can miss important intuitive information.  We're not able to connect and bring our energy out into the world.
So, having energy in our lower chakras, from our heart down is critically important to be able to be present. Our intuition is felt in our bodies and we must be aware of our physical energy to maximize our intuitive flow.  And that's where the animals can help.
Animals live in their bodies in the present. They are not living in the past.  The animal has let go of everything that happened in the past and wants you to let go so they can live in the present.  They're not worried about their next meal. They're not worried about tomorrow.
If we are living in past or worried about future, it is more difficult to feel our intuition.  The animals know that everything that they need is given to them, whether it's by us or by God, but they know it's all going to be taken care of.
If we're stuck in our heads, we can't take inspired action on this knowledge. Animals are naturally grounded and connected.
Learn how to tap in to their energy to enhance yours and then take inspired action.
Animals help ground us, keep us present and open our hearts to keep the flow of intuition and divine energy moving.
Tap into the grounded energy of your animals (and find out what they are thinking) with an Animal Reading.