---
Buddy taught Carolyn to connect to him and all animals
Carolyn has a deeply intuitive connection to animals. She could not have a pet as a child so she talked to the birds, squirrel and plants & trees. She confided in her stuffed animals. She took her stuffed dog and elephant everywhere with her. She saw animals in the clouds.   Her first week at college she got her first pet – a goldfish.
Her next pet was her dog Buddy who she got right after a divorce. Buddy unconditionally filled the sadness in her heart and Carolyn could feel safe opening her heart again. Buddy's absolute love and support helped her feel her own energy and power and she began to trust herself and her intuition.
When she lost her high-tech job in 2006, Carolyn wanted to give other pet owners the peace of mind when they worked that she had wanted for Buddy.  So she created a pet care company, Ashland Pet Concierge, and quickly realized that her deep connection to animals was not just with her own dog. Shy animals approached her and she was a soothing presence to anxious animals.
One day, Carolyn realized that she had continued her childhood habit of having two way conversations with her pet clients. But she soon knew she wasn't imagining the animal's side of the conversation, they were communicating with her!
When she was attuned to Reiki she noticed that her connection with animals became even stronger. During an energy session animals often sent messages to support the healing of the people.  In her Intuitive work, people's animals regularly give messages and guidance.
However, she was blocked around communicating with her own animals. Buddy was so patient and loving with her and supportive in her journey.  She knew his health was failing and was afraid on some level to hear what he had to say. Two days before it was his time to transition, she heard him clearly and distinctly state that he loved her and that it was time for him to move on.  As sad as she was knowing that she was going to lose him in the physical form, she was thrilled that she was now open to communicating with him. She knew his unique tone and was comforted that they had an open channel. He is now on the other side continuing to support her spiritual development and ability to connect with life of all types.
Animals help ground people in relationships and their own energy. They also support deep connection to intuitive flow. Carolyn incorporated this all into her mission of creating heart centered relationships and connections to deepen the bond between pets and their people.
Do you know what your animal has to say?
How many times have you said "I wish I knew what my animal was thinking?". If you have a sense your pet is depressed, acting out to get your attention, or wants to communicate something with you – I can help! Using Telepathy (the transfer of pictures, thoughts and words),  I form a communication bridge between you and your pet.
All Animal Communication sessions are done conveniently by phone.  A 45-minute session is $150.00. There is an additional charge for in person sessions.
Your Animal Communication 45-minute phone call includes:
 A connection with your pet
 Review of your pet's messages
 Recommendations to improve your bond with your pet!
If you know that your best friend, your constant companion, your pet, has something to tell you ..... and you are ready to hear it:  then click this link to get on my calendar.   I am so excited to connect you and your pet to an even deeper relationship!
Energetic support to promote healing
Reiki as a healing modality is a meditative art. It is simply about focusing one's compassionate intention to support another being. When using Reiki to heal an animal, the practitioner simply sets an intention to facilitate the healing process of the animal and then allows Reiki to flow in whatever amount the animal wishes to receive and for whatever he or she needs most.
EFT (Emotional Freedom Technique) is a healing method that quiets the nervous system, spurs emotional healing, helps alleviate physical pain, and lessens performance anxiety. The technique involves tapping with the fingers on the meridian system of the body. In Traditional Chinese Medicine, each meridian is associated with an emotion, so with EFT, tapping on a series of points on a meridian mitigates overwhelming feelings and emotions.
Energy Healing is ideal for use with animals because its effectiveness is not dependent upon physical contact. The animal controls the treatment, accepting the healing in the ways that are most comfortable, either hands-on or from a distance, or a combination of the two. The healing can do no harm. It always goes to the deepest source of the problem and always supports a path toward balance and harmony.
All Animal Energy sessions are done conveniently by phone.  A 45-minute session is $150.00.   There is an additional charge for in person sessions.
Click this link to find a convenient time on my calendar so we can get started right away!
Loving Animal Connections
Ares loves his red "ball"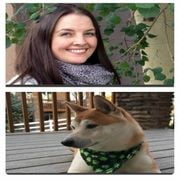 I finally realized what the red ball is - it is a red laser pointer!  And it is absolutely his favorite thing in the world, he is completely obsessed so not surprising that he mentioned it to you.
Thanks so much for the amazing session!  I took your advice on changing my dog's food to a grain free version and he loves it.  He hadn't really had an appetite for ~4 days and when I put some of the new food in his bowl (along with some of the old food as he transitions) he immediately ate all of it!  I'm so excited to see his full transformation in a few weeks after he has fully transitioned to his new diet.  I also did a full house energy clearing yesterday to clear out the energies that were irritating him and he didn't start shaking at all when we put him in his crate this morning.  Such a huge relief!
Thank you!
Erica, www.EricaLeeG.com
3 unique cats in one home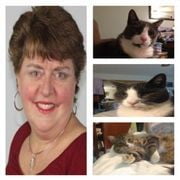 Wow, I'm so impressed Carolyn that you could tune into each cat's personality and understand who they are and also how I can help them.
Great session!  I love how accurate you were about the 3 cats dynamics.  Harley's skin problems on head and shoulder and sound advice for treating their gum problems with essential oils.   You nailed his rebellious, fresh personality as well as Tucker's quirky side.  Chase is a more wise, mature, sedate personality - so accuracy on that as well.
I love 'my boys' so to be a better 'cat mom' is valuable information for me to act on. Thank you for your gifts, insights, and abilities. I heartily recommend that other pet owners take advantage of your services so that there is more harmony and happiness between all family members - 2 and 4-legged.
Denise Simpson    www.denisemsimpson.com
Support our Animals with Essential Oils
Animals are such intuitive beings and love being supported in natural and high energy ways.  Essential Oils are perfect to supplement other healing methods for our companions.
Check out the Therapeutic Grade Essential Oils available for you and your pets HERE.
I am available for Essential Oil classes and happy to give suggestions for you and your animals!
I would love to chat with you about Essential Oils and how they have improved my life and the energy of all in my home!   Please mail me at Carolyn@carolynmcgee.com and put Essential Oils in the subject line.
To check out the therapeutic grade oils I use go to:    http://mydoterra.com/carolynamcgee
Fish like their new home
These are fun comments from an animal communication class about my fish tank!
"Red fish bottom right: loves food. Last to join tank. The shaking in the move was scary. Light sometimes makes him disoriented."  (Was added recently to tank.  Came with fish cleaning service in enclosed pouch so dark and would shake. Light is off during day and on timer for evening so it is not a gradual change.)
"The guy at top with black horizontal stripe said he loves food and that he can't get to it fast enough now there are more fish".  (Reality is he is first to top of tank when I feed them!) "He also said cats can't watch as well in new place."    (True)
"Fish in center with black vertical stripes was a big talker last night! He enjoys watching activity of household. Can feel vibrations in house through water".  (In apt now vs house so much more activity). "View of outdoors and TV" (True).
"Fish in center with black vertical stripes: likes to go through holes."  (All the fish love swimming through the holes in rocks and tree stump.)  "Likes to come to glass to say hi to me - does she know I am saying hi?" (I went to tank after and he immediately came over to glass! I told him hi!) "He also said tank walls could be cleaner."  (New location is near slider and receives more light so yes, more algae on glass. I better step up my cleaning routine!)
"Light pink and light blue light surrounding each fish - entire tank has high vibration to change mood and energy - fish therapy. They are proud of what they provide. They exchange information telepathically."  (I have had a fish tank for over 35 years and they are therapy and healing in motion for me!)
Loving help from a horse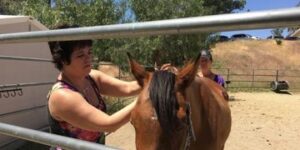 I hadn't spent a lot of time around horses but have always loved their beauty, power and grace. When I was getting ready to travel to CA for an Energy Healing workshop, I was nervous about working with the horses.
Prior to my trip, I had the pleasure of an animal communication session with one of the horses that I would be working with. She volunteered to help me overcome my fears. Her energy was sweet, calm, and secure. She was a teacher and comfortable being a leader.  I felt better and even a bit excited about the trip!
When the time came for me to work with her, she calmly let me approach and stood with grace and peace. She nudged me gently to encourage me. I felt a serenity come over me that I had faced a fear and was now enjoying my time with this beautiful being! Now I am comfortable enough with horses that I am volunteering at the Bay State Equine Rescue doing animal communication and energy work (EFT – tapping).
What a gift I received by opening my heart to communicate and trust this amazing animal!